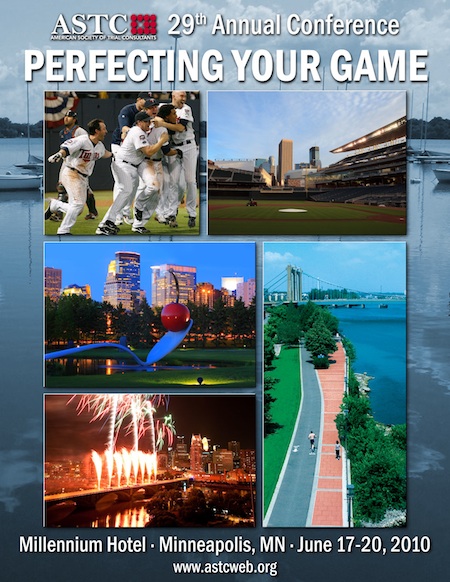 The American Society of Trial Consultant's
Annual Conference for 2010!
Minneapolis, Minnesota
June 17-20, 2010
Come to beautiful downtown Minneapolis the weekend of June 17-20, 2010 for ASTC's 2010 annual conference and 'Perfect Your Game'. Come hear what our experts (many of whom have written for The Jury Expert) have to say. And yes, you can get CLE credits for attending.
Some of the people and topics you'll see and hear at this year's conference include:
Thaddeus Hoffmeister (of Juries Blog) on significant legal rulings and implications for trial (He reads The Jury Expert!)
Jan Spaeth, Rosalind Greene, Alan Hinderaker, Ron Meshbesher & John Sheehy on Critical Steps for Witness Preparation–CLE available
Mike Knox on The Mind of a Gangsta–CLE available
David Cannon on Online/Internet Research (David has written for The Jury Expert here.)
Matt McCusker and Rosalind Greene on Mediation Skills (Matt has written for The Jury Expert on mediation.)
Laura Rochelois on GRAPHICS: Analytical and Conceptual
And much more!
Come to Minneapolis (and the Millennium Hotel) where we have a guarantee from meteorologists of cool, clear, green and sunny weather for the weekend. Well, not really but it's likely to be cooler and greener in Minneapolis than in many areas of the country. Read more about the ASTC Conference on our conference web page! See you in Minnesota!